Interested in learning more about living roofs?
Join us for a full day of education!
Spend a day learning all about a variety of green building topics on Thursday, October 19, 2017, at our Training Center located in Hayward, California. Lunch will be provided to all attendees and there will be a grand prize drawing!
Agenda
8:00-9:00: Coffee Social hour
9:00-10:00: SOPREMA: Waterproofing/Vegetated Roofing
Presented by David Johnson & Naomi Morgan - SOPREMA
10:00-10:30: Precast Concrete Paver Roof-Deck Systems AIA/CE Credit
Presented by Wausau
10:30-11:00: Advanced Irrigation AIA/CE Credits
Presented by Hunter Industries
11:00-11:30: ELDS
Presented by IR Analyzers
11:30-12:30: Lunch/Vendor Showcase
Wausau, IR Analyzers, Tournesol & More!
12:30-1:15: San Francisco Living Roof Program
Presented by CPC City of San Francisco
1:15-2:00: Stormwater Management Review
Presented by Peter Schultz-Allen, BFQP, LEED-AP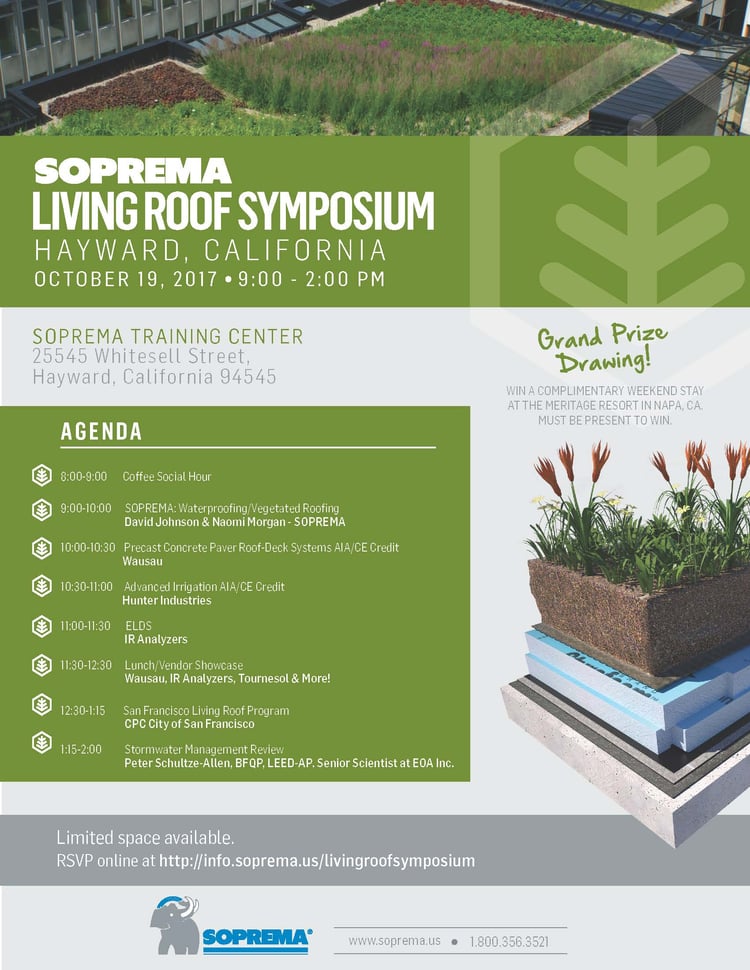 Space is limited, fill out the registration form to reserve your spot today! Please contact tstroup@soprema.us if you have previously registered but are unable to attend.