SURE-STICK™ self-adhered membranes
exceptional self-adhered membranes with advanced ADHESIVE formulations
SOPREMA's SURE-STICK membranes are SBS-modified bitumen membranes specifically formulated for self-adhered application. These membranes have a special permanent film surfacing designed to aid in the application of a SOPREMA self-adhered cap sheet or a SOPREMA heat welded cap sheet. This surface also eliminates the need for interply priming, saving material and labor costs. The SURE-STICK line of products is manufactured with a superior, high tack self-adhesive blend on the underside to give these membranes the best initial tack in the industry.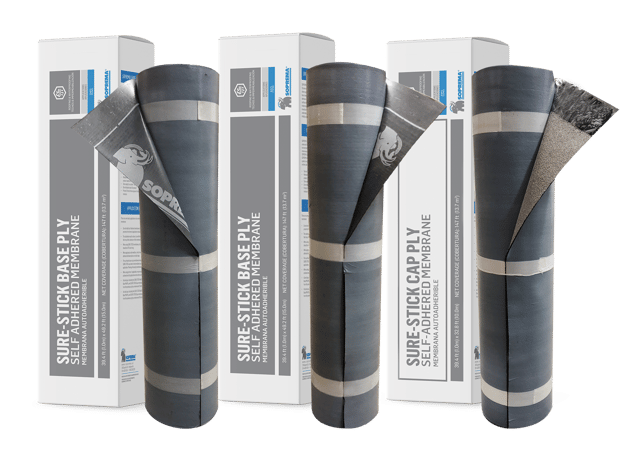 Self-Adhered Application Advantages
Safety is always a principal concern in roofing. When the use of a roofing torch or hot asphalt is a concern, or there are special circumstances that require near odorless application, the SURE-STICK product line is the answer. The SURE-STICK system provides a multi-ply, redundant SBS roofing system with all of the advantages of self-adhered application including quick and easy application, no open flames or odor, and immediate bonding. All of these provide a hassle-free, time and labor saving application.
No odor from primers, adhesives or asphalt

No hazards due to open flame or hot asphalt

Time and labor savings

Material savings

No special equipment needed
We discussed all things SURE-STICK with Matt Davis, Product Manager – SBS Roofing Systems. Check out the interview here!